Calorimetry Services
Columbia Respiratory Chamber-Indirect Calorimetry Suite
Human Phenotyping Core of the New York Nutrition Obesity Research Center.
Director: Dympna Gallagher, EdD.
Kathryn Whyte, PhD
The suite consists of three metabolic chambers, located on the same floor as the Irving Institute for Clinical and Translational Research inpatient rooms (NY Presbyterian Hospital, 10th Floor).  The rates of respiratory gases are analyzed using fuel cell oxygen and near infrared carbon dioxide sensors (Model GA-3m2, Sable Systems International, Las Vegas, NV).
Each chamber consists of an air-tight, temperature-controlled room with pre specified flow rates dependent upon room volume; Chambers 2 and 3 directs air samples to one calorimeter and computer via an adjustable one way valve while Chamber 1 is a separate system with its own designated calorimeter and computer. All three Chambers are equipped with blood sample access ports and can accommodate wired or Bluetooth devices synced with chamber data time stamps.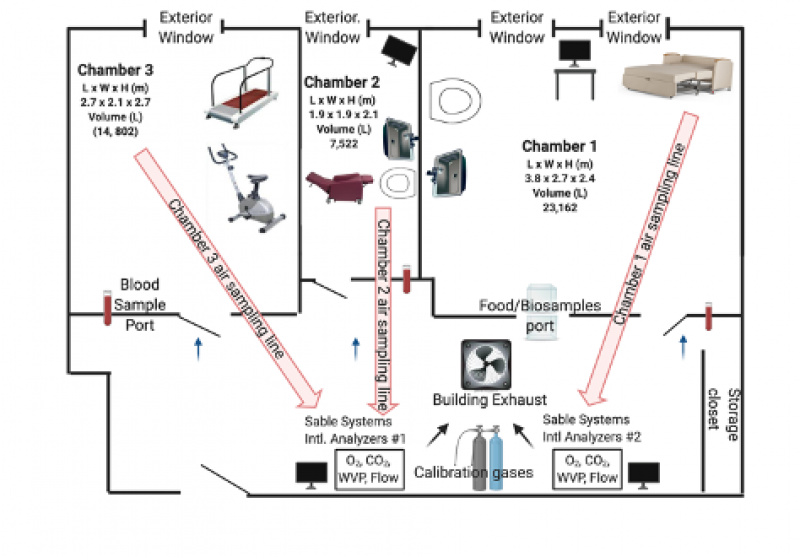 Chamber 1 (internal volume = 23, 162 liters) can be used for studies requiring up to 23-hours of data collection including overnight. Chamber 1 has individual air-locks with designations for food or biological samples and is equipped with a sink, toilet, television, table, chair, bariatric sized bed and telephone.
Chamber 2 (internal volume = 7, 552 liters) is for resting energy expenditure (REE), food thermogenesis assessments, and other studies that do not require the facilities of Chamber 1. Chamber 2 contains a toilet, sink, television, and bariatric reclining chair.
Chamber 3 (internal volume = 14, 802 liters) contains a bicycle ergometer and treadmill for exercise studies.  The floor-to-ceiling height is three meters to allow for the use of exercise equipment in all planes and dimensions of movement.  Sub core staff can accommodate data acquisition of any type of exercise equipment that fits within the space.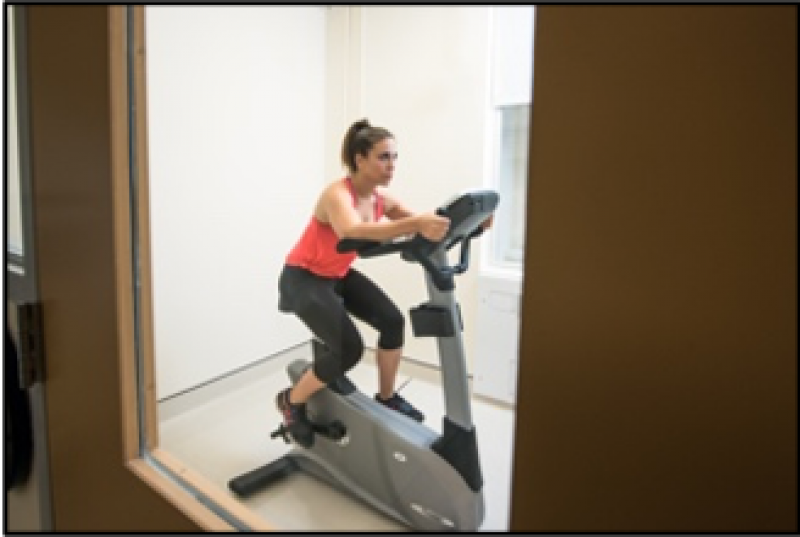 Quality control:
Overall:
Standardized gases and equilibration testing for the gas sensors
Records of calibration coefficients are maintained to assess any change over time with the hardware.
Scrubbing chemicals for the drying column are logged and changed every 10 equilibration runs.
Routine quarterly propane combustion to assess stability as per protocols (Rising et al, 2017); a 10-hour propane combustion test for the MAIN 23-hour chamber and 1-hour propane combustion tests (Rising, Whyte et al, 2015, Rising, Whyte et al, 2016) for the REE and Exercise chambers. Results for EE, RQ, VO2 and VCO2 for propane combustion must be within 2% percent of that of stoichiometry to be considered acceptable.
Biological reproducibility is assessed via repeated human data collection as described below; CVs must be within 5% percent to be considered acceptable.
Data Collection:
Systems must be powered for 24 hours prior to calibration and all temperature data are monitored and logged.
Transfer fans, air conditioning units and valve placements are checked for appropriateness prior to any data collection using documentation prompts.
There is a clear and HIPAA compliant (where necessary) file naming system for all propane and live participant recordings.
Data Analysis
Data analysis procedures are recorded in a MOP and all analysis tools are inventoried and labeled appropriately per protocol.
All data can be merged with same time stamp as primary calorimeter data upon request
All MOPs available upon request
References
Rising R, Whyte K, Albu J, Pi-Sunyer X. Evaluation of a new whole room indirect calorimeter specific for measurement of resting metabolic rate. Nutr Metab (Lond). 2015 Nov 19;12:46. eCollection 2015. PMID: 26594229; MCID: PMC4653920.
Rising R, Whyte K, Albu J, Pi-Sunyer X. A New Whole Room Indirect Calorimeter for Measurement of the Energetics of Exercise. J Exerc Physiol Online. 2016 Dec;19(6):156-169. PMID: 28179805; PMC5292921.
Rising R, Foerster T, Arad AD, Albu J, Pi-Sunyer X. Validation of whole room indirect calorimeters: refinement of current methodologies. Physiol Rep. 2017 Nov;5(22). PubMed PMID: 29180485; PMCID: PMC5704087.