Robert Graham Barr, MD, DrPH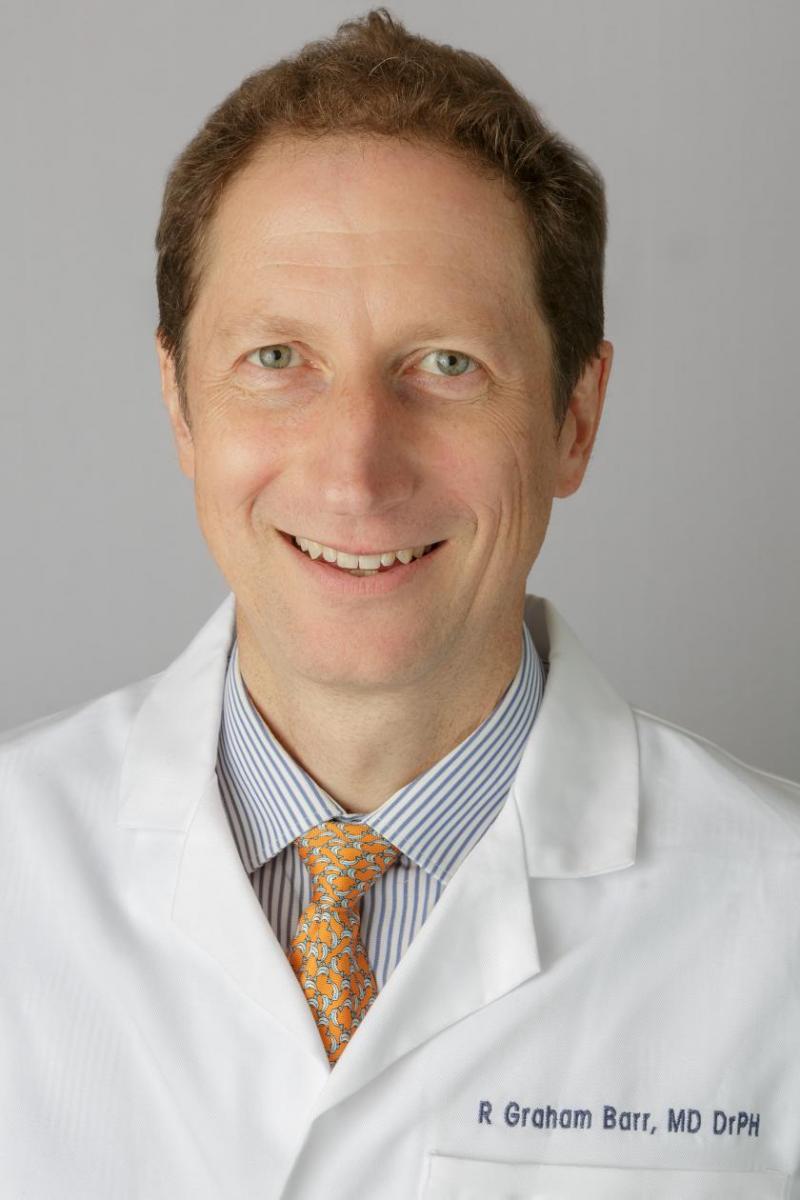 Overview
Dr. R. Graham Barr's research is primarily in respiratory epidemiology, relating to risk factors for asthma and chronic obstructive pulmonary disease (COPD). He has evaluated hormonal and analgesic risk factors for asthma and COPD in the Nurses' Health Study and is currently evaluating usage of over-the-counter analgesic drugs during asthma exacerbations. He is principal investigator (PI) of a longitudinal cohort study of fish oil intake and COPD among current and former smokers. He is co-PI of the Columbia Field Center of the MultiEthnic Study of Atherosclerosis, a 10-year prospective cohort study funded by NHLBI, PI of Mesa-Lung, a large study of endothelial function and lung function in that cohort, and PI at Columbia Mesa-Air, a 10-year prospective study on the health effects of air pollution funded by the EPA.
Academic Appointments
Hamilton Southworth Professor of Medicine and Epidemiology
Administrative Titles
Chief, Division of General Medicine
Hospital Affiliations
NewYork-Presbyterian / Columbia University Irving Medical Center
Schedule an Appointment
Connect Patient Portal
For existing patients, login to make an appointment, view documentation or contact your care provider.
Insurance Accepted
AgeWell
Medicare Managed Care
Special Needs
Cigna
EPO
Great West (National)
HMO
POS
PPO
Empire Blue Cross/Blue Shield
Medicare
Railroad
Traditional Medicare
MVP Health Care
Child/Family Health Plus
Essential Plan
HMO
Medicaid Managed Care
UnitedHealthcare
Columbia University Employee Plan
Compass (Exchange)
Empire Plan
HMO
Medicaid (Community Plan)
Medicare Managed Care
POS
PPO
*Please contact the provider's office directly to verify that your particular insurance is accepted.
Credentials & Experience
Education & Training
McGill University Faculty of Medicine
Internship: New York University Medical Center
Residency: Columbia Presbyterian Medical Center, NY
Fellowship: Massachussetts General Hospital
Committees, Societies, Councils
American Thoracic Society
American Society for Clinical Investigation
Fleischner Society
Founding Fellow of the European Respiratory Society
Honors & Awards
2001 Robert Wood Johnson Generalist Physician Faculty Scholar Award
2004 Irving Scholar Award, Irving Center for Clinical Research, Columbia University
2009 Harold and Golden Lamport Award for Excellence in Clinical Sciences Research
2014 John Loeb Award Invited Lecturer
Research
Dr. Barr's research focuses on respiratory epidemiology with a focus on obstructive lung disease and emphysema. In particular, he is interested in a better understanding of the epidemiology and causes of these components of chronic lower respiratory disease using methods that integrate advanced imaging (predominantly computed tomography [CT] and magnetic resonance imaging [MRI]) with genomic, cellular and biomarker information in large cohorts. Currently, Dr. Barr is principal investigator for the Multi-Ethnic Study of Atherosclerosis (MESA) Lung Study, a related genetic study, the MESA COPD Study, the Columbia University Field Center for SubPopulations and Intermediary Outcome Measures in COPD Study (SPIROMICS), the COPD Gene study and the MESA Air Pollution Study. He is also principal investigator for the Spirometry Reading Center for the Hispanic Community Health Study.
Selected Publications
I have had an interest in using novel imaging modalities to understand cardiopulmonary interactions. We have found that subclinical emphysema is associated with large reductions in left ventricular (LV) filling with resultant reductions in cardiac output and LV mass but increased LV mass/end-diastolic volume, which may be mistaken clinically for LV diastolic dysfunction. Paradoxically, we have found that gas trapping/hyperinflation is associated with increased LV mass, likely due to increased LV afterload due to intrathoracic pressure swings. Furthermore, we have found that the predominant change in the right ventricular (RV) in COPD is shrinkage, not hypertrophy, which may relate to RV diastolic dysfunction or impaired venous return. Hence, new imaging approaches are allowing redefinition of some on the classic teaching of cardiopulmonary interactions and suggesting new diagnostic and therapeutic approaches.
1.Barr RG, Bluemke DA, Ahmed FS, Carr JJ, Enright PL, Hoffman EA, Jiang R, Kawut SM, Kronmal RA, Lima JA, Shahar E, Smith LJ, Watson KE. Percent emphysema, airflow obstruction and impaired left ventricular filling. New Engl J Med, 2010;362:217-27. PMID: 20089972. PMC2887729
2.Smith BM, Kawut SM, Bluemke DA, Basner RC, Gomes AS, Hoffman E, Kalhan R, Lima JAC, Liu C-Y, Michos ED, Prince MR, Rabbani L, Rabinowitz D, Shimbo D, Shea S, Barr RG. Pulmonary hyperinflation and left ventricular mass. Circulation. 2013;127:1503-11, 1511e1-6. PMID: 23493320. PMC4018203
3.Kawut SM, Poor HD, Parikh MA, Hueper K, Smith BM, Bluemke DA, Lima JA, Prince MR, Hoffman EA, Austin, JHM, Vogel-Claussen J, Barr RG. Cor pulmonale parvus in chronic obstructive pulmonary disease and emphysema. The MESA COPD Study. J Am Coll Cardiol. 2014;64:2000-9. PMID: 25440095 PMC4347835
An area of interest has been the significance of pulmonary emphysema and airway disease among patients who do not have COPD on spirometry. We have an increasing number of papers showing that patients with 'non-obstructive pulmonary emphysema' have reduced exercise tolerance, increased dyspnea and increased mortality whereas those with airway disease and increased symptoms and exacerbations. These findings expand the spectrum of chronic lung disease, suggest that emphysema is a distinct clinical entity from COPD and has different risk factors compared to COPD.
1.Oelsner EC, Hoffman EA, Folsom AR, Carr JJ, Enright PL, Kawut SM, Kronmal R, Lederer D, Lima JAC, Lovasi GS, Shea S, Barr RG. Association of emphysema-like lung on cardiac computed tomography and mortality in persons without airflow obstruction: the Multi-Ethnic Study of Atherosclerosis (MESA) Lung Study. Ann Intern Med 2014;161:863-73. PMID: 25506855 PMC4347817
2.McAllister DA, Ahmed FS, Austin JH, Henschke CI, Keller BM, Lemeshow A, Reeves AP, Mesia-Vela S, Pearson GD, Shiau MC, Schwartz JE, Yankelevitz DF, Barr RG. Emphysema predicts hospitalisation and incident airflow obstruction among older smokers: a prospective cohort study. PLoS One. 2014;9:e93221. PMID: 24699215. PMC3974731
3.Oelsner EC, Lima JA, Kawut SM, Burkart KM, Enright PL, Ahmed FS, Barr RG. Non-invasive tests for the diagnostic evaluation of dyspnea among outpatients: the Multi-Ethnic Study of Atherosclerosis (MESA) Lung Study. Am J Med. 2014; pii: S0002-9343:00898-5. PMID: 25447621 PMC4346168.
4.Woodruff PG, Barr RG, Bleecker E, Christenson SA, Couper D, Curtis JL, Gouskova NA, Hansel NN, Hoffman EA, Kanner RE, Kleerup E, Lazarus SC, Martinez FJ, Paine R 3rd, Rennard S, Tashkin DP, Han MK; SPIROMICS Research Group. Clinical Significance of Symptoms in Smokers with Preserved Pulmonary Function. N Engl J Med. 2016;374:1811-21. PMID: 27168432
Given the lack of medical therapies for emphysema, we have been examining the endothelial hypothesis of emphysema and have been, along with others, resuscitating this early but discarded hypothesis on the role of the vasculature in the pathogenesis of emphysema. We have demonstrating endothelial changes in humans using cellular, functional and protein biomarkers, and developed imaging endpoints for trials targeting the pulmonary vasculature in emphysema.
1.Barr RG, Mesia Vela S, Austin JHM, Keller B, Reeves AP, Shimbo D, Stevenson L. Impaired flow-mediated dilatation of the brachial artery is associated with low pulmonary function & emphysema in ex-smokers. The EMCAP Study. Am J Respir Crit Care Med, 2007;176:1200-07. PMID: 17761614. PMC2176103
2.Thomashow MA, Shimbo D, Parikh MA, Hoffman EA, Vogel-Claussen J, Hueper K, Fu J, Liu C-Y, Bluemke DA, Ventetuolo CE, Doyle MF, Barr RG. Endothelial microparticles in mild COPD and emphysema: the MESA COPD Study. Am J Respir Crit Care Med. 2013;188:60-8. PMID: 23600492. PMC3735242
3.Ahmed FS; Xian-Cheng J; Schwartz JE; Hoffman EA; Yeboah J; Shea S; Burkart KM; Barr RG. Plasma sphingomyelin and longitudinal change in percent emphysema on computed tomography. The MESA Lung Study. Biomarkers. 2014;19:207-13. PMID: 246489875. PMC4088962
4.Hueper K, Vogel-Claussen J, Parikh MA, Austin JH, Bluemke DA, Carr J, Choi J, Goldstein TA, Gomes AS, Hoffman EA, Kawut SM, Lima J, Michos ED, Post WS, Po MJ, Prince MA, Liu K, Rabinowitz D, Skrok J, Smith BM, Watson K, Yin Y, Zambeli-Ljepovic AM, Barr RG. Pulmonary Microvascular Blood Flow in Mild Chronic Obstructive Pulmonary Disease and Emphysema. The MESA COPD Study. Am J Respir Crit Care Med. 2015;192:570-8. PMID: 26067761
We are also examining the molecular predisposition to COPD and emphysema and personalised risk.
1.Manichaikul A, Hoffman EA, Smolonska J, Gao W, Cho MH, Baumhauer H, Budoff M, Austin JHM, Washko GR, Carr JJ, Kaufman JD, Pottinger T, Powell CA, Wijmenga C, Zanen P, Groen HJM, Postma DS, Wanner A, Rouhani FN, Brantly ML, Powell R, Smith BM, Rabinowitz D, Raffel LJ, Hinckley Stukovsky KD, Crapo JD, Beaty TH, Hokanson JE, Silverman EK, Dupuis J, O'Connor GT, Boezen HM, Rich SS, Barr RG. Genome-wide study of percent emphysema on CT in the general population: The MESA Lung/SHARe Study. Am J Respir Crit Care Med. 2014;189:408-18. PMID: 24383474. PMC3977717
2.Burkart KM, Manichaikul A, Wilk JB, Ahmed FS, Burke GL, Enright, Hansel NH, Haynes D, Heckbert SR, Hoffman EA, Kaufman JD, Kurai J, Loehr L, London SJ, Meng Y, O'Connor GT, Oelsner E, Petrini P, Pottinger TD, Powell CA, Redline S, Rotter JI, Smith LJ, Soler Artigas M, Tobin MD, Tsai MY, Watson K, White W, Young TR, Rich SS, Barr RG. APOM and high-density lipoprotein are associated with lung function and percent emphysema. Eur Respir J. 2014;43:1003-17.
3.Hancock DB, Eijgelsheim M, Wilk JB, Gharib SA, Loehr LR, Marciante KD, Franceschini N, van Durme YMTA, Chen T, Barr RG, Schabath MB, Couper DJ, Brusselle GG, Psaty BM, van Duijn CM, Uitterlinden UG, Hofman A, Punjabi NM, Rivadeneira F, Morrison AC, Enright PL, North KE, Heckbert SR, Lumley T, Stricker BHC, O'Connor GT, London SJ. Meta-analyses of genome-wide association studies identify multiple loci associated with pulmonary function. Nat Genet, 2010;42;45-52. PMID: 20010835. PMC2832852
4.Loth DW… [Manichuikal A/Barr RG, First/Senior MESA authors] …London SJ. Genome-wide association analysis identifies six new loci associated with forced vital capacity. Nat Genet. 2014;46:669-77. PMID: 24929828. PMC4140093.
Global Health Activities
Economic Analysis of Tuberculosis Control: Dr. Barr evaluated the cost effectiveness of scaled-up intensive (directly observed therapy) treatment for tuberculosis in 3 developing countries on medical and economic costs in those countries and in the U.S. and Canada.
Urban Health Activities
Poverty and Tuberculosis: Dr. Barr analyzed neighborhood poverty and the resurgence of tuberculosis that New York City experienced from 1984 to 1992.Pesticide Spraying for West Nile Virus and Asthma: Dr. Barr investigated the spraying of pesticide for West Nile Virus control and emergency department asthma visits in New York City.